Prosper Coaching
[clear /] [clear /]
Thank you for purchasing Chakra7, we would like to give you…
A Complimentary Coaching Consultation With

Read below on how to claim your coaching consultation.
[clear/] [clear/]
[two]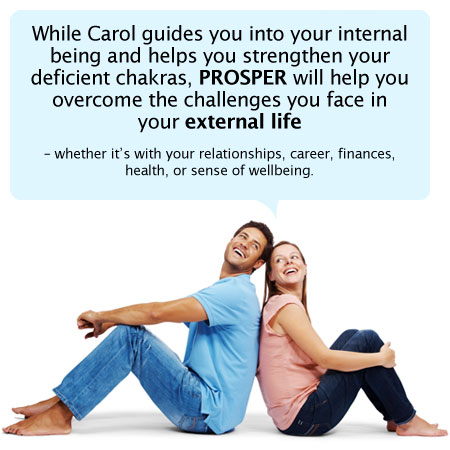 [/two]
[two_last]
[dropcap_1]W[/dropcap_1]hat truly sets PROSPER apart from other personal coaching organizations is their commitment to providing you with real-world, action-based skills and training. This means no theories or made-up scenarios, just practical applications that you can instantly implement in your life.
What's more – the coaching consultation you will receive will be customized to your immediate requirements. So whether you'd like to connect better with people, experience a huge leap in your career or handle money better, your PROSPER consultant will assist you according to your unique needs.
The personal coaching consultation you'll receive will take place through a 30-minute call, during which you will discover your limiting beliefs, and learn how to deal with your self-defeating attitudes.
PROSPER has been in the business of personal coaching for the past 11 years, and during that time, graduates have awarded the organization an average of 4.3 out of 5 in customer satisfaction.

[/two_last]
[text width="700px" right="auto" left="auto" text_align="text-center"]
Here are what some PROSPER graduates had to say about the personal coaching they underwent…
[/text]
[three type="separate" height="370″]
"..my relationship with my wife has been better than it's been in the previous year! We have gone from borderline divorce to planning to renew our vows on our 10th anniversary. Financially, I have gone from thinking that I was going to be out of money in a month (with no hope of where additional money would come from) to bringing in more business this week than I brought in all of last month. In other words, as a financial planner, it has been my goal to attract $400,000 in new client assets each month. This week alone, I brought in $257,000. That is more than I brought in all of last month; and I
know that there is a lot more on its way."
– Keith P., Austin, Texas
[/three]
[three type="separate" height="370″]
"So many great things happened after I started with my miracles coach. Now I get feedback that is so much more positive from people. My friends see changes in me, being so much more energized and happy. For instance, a couple of weeks ago, a friend told methat she has never met anyone else being so much of an inspiration than I was to her (this makes me so proud)."
– Danne H. from Oslo, Norway
[/three]
[three_last type="separate" height="370″]
"I've spent most of the last 60 years being, taught, instructed, led, trained, choreographed, and generally educated about things I hadn't known and about things I thought I knew more about than the person instructing me. I've even been coached before: coached by people with whom it was delightfully easy to change the subject if it got a little too close for my comfort or if I just didn't want to talk. But not my Prosper coach! My coach has the ability to sneak up on a person with exactly that uncomfortable topic; and all of a sudden, you find yourself in a very pleasant conversation about exactly what you fear."
– MaryAnn P., Oro Valley, Arizona
[/three_last]
[clear /]
[text size="14″ width="700px" right="auto" left="auto" text_align="text-center"]
Take advantage of this absolutely free offer.
Sign up for the complimentary 30-minute Personal Coaching Consultation from PROSPER, and jump on the fast-track towards achieving the life you've long desired.
Enter Your Mobile No. Below To Redeem Your Free Personal Coaching Consultation.
[/text]
[office_autopilot_form]
validate="1″
id="prosper-upsell"
class="yellow modal"
prefix="oa"
uid="p2c1539f296″
next="/products/special/one-time-offer-lp"
before=""
button="Yes, I Would Like My Personal Coaching Consultation."
template="oap-prosper-upsell.phtml"
custom_fields="whisper_action|1318570149,target|order,request|afterSales,reject|1″
[/office_autopilot_form]
[order_after_sale_form bundle_id=1 accept_text="" reject_text="No Thanks! I am happy with what I have." template="afterSaleFormRejectOnly.phtml"]