Kundalini breathing helps "awaken the serpent" of coiled life force energy within you. For kundalini breathing to work you must practice conscious awareness of your diaphragm and full-belly diaphragm breathing. There are many kinds of breathing exercises that fall under kundalini breathing that help bring full focus onto the sensation of using your diaphragm. Long deep breathing and Breath of Fire are good disciplines to begin with.
Long Deep Breathing
What is it?
Long deep breathing provides extremely deep relaxation and can help those with lung-related problems or illness.
What does it do?
Breathing in this way helps us to feel the flow of energy through the diaphragm. Most of the blood in the respiratory system circulates near the lower lung areas. By pressing the air we have breathed down into the lungs, we are able to feel the circulation of energy more strongly than we would through simple, shallow chest breathing. Shallow chest breathing is what we do when we are stressed, anxious or afraid, and if we're chronically stressed, this shallow breathing can become so habitual we don't even notice it.
As you press the air upward into the upper parts of your lungs and chest cavity, more energy is created in the nerve endings found there. This energy is healing and revitalizing. The more you practice the more easily you will be able to shift your focus from the muscles in your chest and shoulders to your diaphragm.
How to do it?
Sit cross-legged or in a pose that is comfortable for you and allows for you to breathe freely and deeply. First, fill your abdominal area by inhaling air downward and pressing it into the lower areas of the abdomen. This is a conscious action and you must remain aware of the air filling your diaphragm and lower lungs. Next sir forward slightly, placing your palms on your knees. After you've achieved this  straighten the arms while pressing your palms against your knees and inward towards your lower body. This will allow the chest cavity to open so as to keep the pressure on the lower lungs while also allowing for the chest cavity to fill with air. The arch in your spine will finally allow for the upper lungs to fill without the need of raising your shoulders or expanding your rib cage.  Once the lungs become completely filled like this hold your breath for a few moments. Press your shoulders back and expand your chest outward in order to feel the full pressure on the diaphragm. Finally, contract the entire length of the diaphragm so that all of the air will be compressed out. Repeat this many times for more lasting effects.
Breath of Fire

What is it?
The Breath of Fire is breathing that uses abdominal contractions to cleanse and energize. Air is pulled in and pumped out very rhythmically using the discipline of long deep breathing for the diaphragm.
What does it do?
Keep the abdominal muscles and upper torso area relaxed so you learn to take deep breaths with little effort. Breath of Fire will recharge your entire nervous system, purifying the blood by causing glands to secrete healing substances. Certain postures and movements that put either contracting or expanding pressures on your nerves and glands cause them to fire and become completely charged, thus the Breath of Fire. As various areas become charged, they will send their firings and seminal fluids into the bloodstream. Over time these areas will be able to remain charged, filling the body and the mind with healing energy. After just a few weeks of practice the body will begin to feel electric and etheric, allowing the mind to become clear.Your mind will open to being more receptive and feelings of stress and the need to get up and do will start to fade out. You will  begin to feel the presence of a natural oneness that can exist as a new reality.
How to do it?
Start with long deep breathing. Once the lungs are completely expanded, push the air out. Once most of the air is out, immediately expand more air back in. Each time you do this, place the palms of your hands on your knees and arch to spine forward somewhat, in order to feel your diaphragm fill your lungs with air. As you take each breath you will begin to expand and contract a little faster each time. Feel that rhythm and let it take over as you draw in more breaths and let them go. Think of it like a train. It might be slow and seem strained at the start, but after a few moments all of the wheels are chugging along in rhythmic harmony.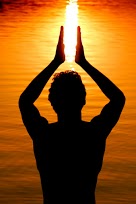 For some, though, it is preferred to move immediately into a rhythmic breathing pattern by simply visualizing the nature of their diaphragm as though it blows out air every time it is squeezed and contracted. This ability takes a little more practice than starting with long deep breathing might, so it may be wise to seek guidance from an instructor on this. Whichever of these two methods you practice you will learn to control it and you can make your Breath of Fire something very powerful or something lighter.
Kundalini Breathing can be somewhat difficult as it is changing things within your bodily structure. It is not a practice that is mastered overnight.
The Kundalini Breathing experience is about adjustment and being able to discipline your body to do it naturally and without strain. There are many levels to this training. Your are changing your body and muscle definition in various stages and at the same time, evolving your mind. This practice is about adopting a new way of being and of thinking. It's a trying task for us all, but the pay-off is unmatched.