When you wake up in the morning, how do you feel? Do you spring out of bed the moment your alarm goes, eager to start the day? Or – do you hit the snooze button and hide your head under the covers, dreading the moment you'll have to get up?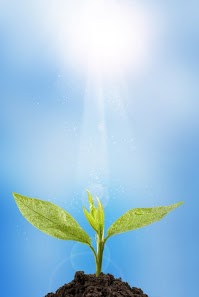 It's a fact of life that some of us are born to shine in the morning, while others struggle to function prior to midday. Certainly, you can't be expected to wage battle on your own nature – if you were born a night owl, then you weren't meant to love the morning. Unfortunately though, kids and a hectic work schedule don't often take personal preference into account. If you feel as though you could use a burst of energy in the morning – and for the rest of the day – you might want to try techniques of energy healing.
It is a well-known fact that energy drives all the processes of the human body. Physical action, mental thought, and even the more metaphysical processes motivated by the human spirit all require some form of energy. At a purely physical level, we obtain the energy we need from the food we eat. Most of us recognize that what we consume contributes to just how good we feel, where a diet of only junk food will make you feel sluggish and irritable – the human body can't be properly nourished with pseudo-food. When you eat a balanced, healthy diet you're more likely to feel energetic, happy, and fit because you're providing your body with good energy to work with.
Food is only one source of energy, and similar to the way the human body uses food as fuel to drive physical processes, there are other sources of energy which can nourish us and allow us to perform our higher functions. The seven chakra centers, which ascend from the base of the spine to the crown of the head, are springs of energy that are innately tied to your holistic well-being – the physical, mental, emotional, and spiritual aspects of your health. Many people walk through life unaware of the hidden power of the chakras, veritable sources of energy that can be harnessed and targeted towards mending the body, mind, heart, and spirit. When you take the time to open yourself to that energy by learning more about your chakras, you can begin to experience a new form of healing.
Find out how to unleash the power of your chakras!

Take the Free Chakra Healing Test today.

The Energy to Help Yourself Heal
Energy optimizes the inherent vitality of the human body. Learning to open the chakra energy centers is a technique that can address a wide array of conditions, including that of those who struggle to wake up in the morning. As a healing method that targets the whole, the chakras can help you resolve your affliction by addressing it at the root. For instance, physical illnesses such as the flu and the common cold, as well as more life-threatening diseases such as cancer can all be targeted by these techniques which focus on the negative sources of energy that enable and initiate illness.
Similarly, healing with energy can be applied to combat mood and mental health issues, including stress, anxiety, and depression. If we look at the symptoms of some common mental illnesses, it is immediately obvious that energy is intimately involved. The overwhelming sense of fatigue that characterizes a depressed individual, and the rapid heartbeat experienced by a person having an anxiety attack are both energy-related symptoms of mental health issues. There is a current of energy which underlies the fragile psychological balance of every individual, and when this energy is stifled or blocked, problems can arise.
An Energy-Rich Outlook
Energy healing is about bringing awareness to the sources of energy already at flowing through your own body. There are numerous techniques, covered in the Chakra Healing home-study course, which can empower you to feel and use your body's own hidden wells of energy. The Chakra Healing home-study course offers the expertise of a trained energy healing guide, someone who can tap into the energy fields around your body. Additionally, the course gives you the tools you need to work on your own as you learn to feel the subtle energies surrounding your body. Both of these methods enable you to access your body's vital energy and target it towards your individualized healing. If you'd like to feel the real healing power, take some time to learn more about your body's chakra energy centers today.
Is your lack of energy sabotaging your ability to heal?

Find out with the Free Chakra Healing Test.